The Biggest Challenge for E-Commerce Brands - Abandoned Carts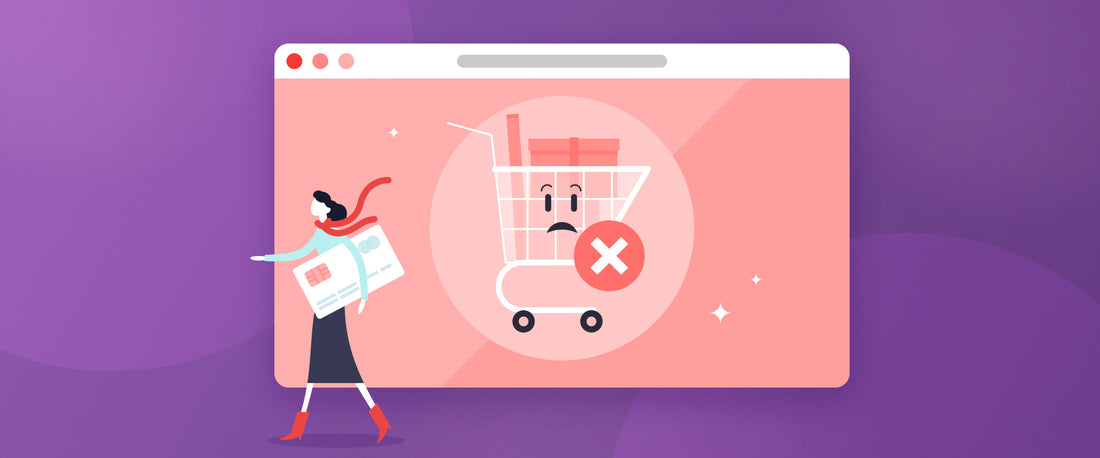 Did you know, roughly 60-80% of online shopping carts are abandoned before the customer completes a sale? According to a study by Baymard Institute, the average online shopping cart abandonment rate is 69.57%. That's staggering!  It implies that your sales numbers may only be one third of what they could potentially be. So, what should you do?
It's definitely worth putting in an effort to convert the abandoned carts, because a significant percentage of them are convertible. According to estimates by Business Insider, about 63% of the abandoned checkouts are potentially recoverable by online retailers.
Strategies to win the cart abandoning customers back:
1. Emails:
Abandoned cart emails are sent to customers who have added products to their cart but failed to check out. It's a remarkably effective tactic. According to SaleCycle, nearly half of All abandoned cart emails are opened and over a third of clicks lead to purchases back on site.
Customers often abandon their carts without actually meaning to do so. For instance, sometimes because a website crashed or timed out, or the check-out process was complicated, etc. Our B2C & D2C e-commerce portal sends appealing abandoned cart emails for abandoned cart products.
2. Push Notifications:

Having a push notifications campaign in place to convert the likely buyers who abandoned their carts is essential for e-commerce sites. You can use website notifications to create an online shopping cart abandonment campaign.
Recent research says that push notifications have around 5x higher returns over any other method. Push notifications act as a great reminder. They appear as a pop-up, in a way that the user definitely sees it.

3.WhatsApp:


Sending abandoned cart recovery messages on WhatsApp is clearly a winning strategy but still untapped by most companies. WhatsApp has 6x more visibility than text messages. It has quickly become one of our favourite ways to interact, and also a great way for businesses to communicate with their customers.
Why WhatsApp for abandoned cart recovery?
It has over 2 billion users throughout the world.

320 million active WhatsApp users send and receive between 40 to 45 billion messages daily.

There is a much higher open rate of 99 percent.

There was a 40% response rate.

The likelihood of seeing a cart recovery message submitted through this platform is also higher.

4. Remarketing Ads:
Retargeting your cart abandoners with relevant ads helps keep the cart items top of their mind. The goal is to spur the purchase by reminding them of the items they left in their shopping cart. 
Retargeting ads are popular, with a clickthrough rate of 0.7%, significantly higher than the 0.07% rate for regular display ads. After all, there are more chances that a shopper who has already shown an interest in your products will click on an ad, compared to the one with very little or no interest.
Simply put, adding retargeting ads to your abandoned checkout recovery campaign mix is a faster and more effective way to increase your ROI.

5. Personal Follow-ups:
Personal follow up calls and emails with customers after the checkout abandonment is an effective method. Personally remind shoppers that they haven't completed their purchase and give them the ability to pick up where they left off. 
A personal follow up is especially seen effective with B2B transactions where multiple decision makers are involved. You might also consider providing a link that takes them to the exact stage where they left would pretty much simplify the process.

6. Chatbot Inbound campaigns
A chatbot is available 24/7 to answer common questions and guide users through the checkout process. Conversational chatbots provide an intuitive experience that makes it easier for shoppers to find exactly what they're looking for and smoothly complete the checkout process.
Sometimes, carts are abandoned simply because the customers forget about them! A chatbot can simply send a cart reminder message if the cart has been lying dormant for some time or if the customer exits the website/app. 
Chatbot reminders on a website see approximately 8% CTR, and faster conversions. Automated chatbot abandoned cart reminders have as high as 80% open rates. So, if you want to boost sales and encourage people to checkout, adding an e-commerce chatbot to your site/app is a no-brainer.
Summing up:
Marketing efforts for e-commerce platforms need to be automated and in real time for better ROI. F2FMART.com sends cart recovery messages at regular time intervals, be it 1 hour or 1 week after cart abandonment. With tech capability enabled for regular cart recovery messages, notifications, emails, etc. F2FMART provides its sellers streamlined solutions for dealing with one of the biggest e-commerce problems - abandoned carts.  
Partner with us for an integrated tech-based option to sell both with b2b wholesale and b2c online e-commerce. We take care of all your hassles so that you can take the quick leap, right from concept to business.
A measure of the same can be seen from the over 30 faster growing brands under management like Urban Scottish, Jade Blue, Voi Jeans and many more.